Best Sushi Puerto Rico
In Puerto Rico, there is no shortage of Sushi restaurants on the island.  Because of this, we have set out to find the most delicious, and popular restaurants that the consumers consider their favorite.  We ran a poll on Instagram for a little over a month, and received over 300  comments for Best Sushi Puerto Rico.
The question was simple: Where is your favorite Sushi Restaurant?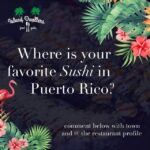 We got responses from every corner of the island on Facebook and Instagram. From the capital city of San Juan. South of the island in Guayama. To the west coast in Aguadilla, Rincon, and Mayaguez, and to the east in Rio Grande. We realized that there are A LOT of delicious sushi restaurants in Puerto Rico. However, we also realized how much people in Puerto Rico LOVE sushi!
Since it is almost impossible to visit all of these restaurants (but we are definitely going to try!), we took information from the reviews, comments, and first hand experiences from customers that have tasted the dishes at the following places. We have also given some of the restaurants that were mentioned a couple of questions to get to know them better.
❗❗❗ Please also note that due to the COVID-19 situation, most of these restaurants are only offering pickup and delivery.  Additionally, some are not open at all, so make sure to visit their social pages for more information.  In a recent post that we did, we reviewed all of the delivery apps where you can find these restaurant's menus.  Also, we are updating our Instagram page with restaurant communications, and daily menu specials. ❗❗❗
San Juan, East Coast, West Coast, South, and North Coast
Because of the amount of replies that we got in our sushi poll, we decided to break down the restaurants by region of Puerto Rico.  We found regions that have a large amount of restaurants, and other regions that only have a couple.   
This post will begin with the regions that have a smaller amount of restaurants, and then work our way up to the larger areas.
Puerto Rico East Coast Sushi Restaurants
The only sushi restaurant mentioned on the East coast of Puerto Rico when conducting our poll was W Sushi Bar in Rio Grande. They have a classic sushi menu, as well as a variety of special rolls.  Their most popular roll is the Super Crunch roll.  This is a spicy crab and salmon roll that is made so crunchy with panko, that you almost forget you are eating sushi.  In addition, it is topped with eel sauce and spicy mayo.  If you are heading to the east coast of Puerto Rico and are in the mood for sushi, we suggest that you stop by W Sushi Bar for a delicious meal.
Puerto Rico South Coast Sushi Restaurants
Known for their fresh seafood, is of no surprise that one off the most mentioned sushi restaurants on our poll was Otoro Rooftop Lounge in Guayama. 
Walking up the stairs to the Otoro rooftop,  you will be taken away by the wooden deck with patio lighting, and red umbrellas over picnic tables.  It is a beautiful restaurant in the day and night. We asked the owners of Otoro a couple of questions so that they can describe in their own words Otoro Rooftop lounge:
What roll is the chef and house favorite?
"The Kaen Roll. This is a roll temaki style, with breaded shrimp, pineapple, king crab, and avocado. It is topped with fresh flamed tun and finished off with home made mango sauce."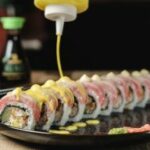 What roll do customers love the most?
"It has to be the Otoro Roll. It is also a temaki style roll with breaded shrimp, eel and cream cheese. its is topped with fresh tuna, avocado, seaweed salad, crab salad, tempura flakes, and Masago."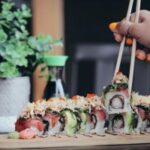 How can you describe the ambience at Otoro Rooftop Lounge?
"We offer a family ambience and good for all ages. We are a getaway from the urban surroundings of Guayama so that you can come and enjoy delicious and creative sushi dishes!"
North Coast Sushi Restaurants.
(Disclaimer) When we say the north coast, most people may ask; "but isn't San Juan on the north coast?"  Well, yes it technically is, but San Juan will be in its own category which is Metro Area.  In this section, we want to give light to the restaurants west of the San Juan area that are on the north coast.
The first place that we want to mention is Garden Sushi in Dorado.  Known for their great service, and deliciously fresh sushi, Garden Sushi is a casual Japanese restaurant with a cozy ambience, and good prices.  They have a delicate attention to detail with their sushi that makes them unique.  Their Sakura roll is one of the favorites.  It seems simply defined on the menu as spicy shrimp, avocado, cream cheese and crab, but once it arrives, you are in for a surprise!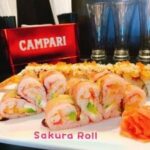 The second and third "restaurant" we want to mention are actually sushi food trucks.  In the past years, there has been an uprising in mobile food restaurants throughout the island.  Food truck parks are in almost every city, and each one usually has Asian influenced cuisine.  The next two places are sushi food trucks in different towns.
The first is Sushi on the Road in Manati.  Many consider they the best sushi in the area because of their fresh ingredients, and good prices.   Their fusion with Japanese and Puerto Rican cuisine creates an explosion of flavors that people travel from all over the island to experience.  You should also ask about their unique sushi burritos.  Their menu is full of creative variations of traditional sushi plates. We asked the owners of Sushi on the Road a couple of questions so that they can describe in their own words Sushi on the Road :
What roll do customers love the most?
"The roll that our customers love the most are the Sweet Dreams Roll, and the Tornado Roll."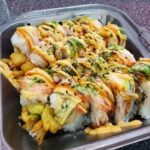 What roll is the chef and house favorite?
"We also love the Sweet Dreams Roll and Tornado Roll, but we also love the Carnitas Roll and the Spicy Crab Tostones.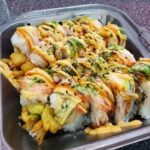 How can you describe the ambience at Sushi on the Road?
'We have a family fun ambience.  And apart from our large variety of sushi, there is also a Waffles, Tacos, and Pizza Truck.  So everybody leaves happy!"
The last location that we want to mention in the northern coast is Vok2 in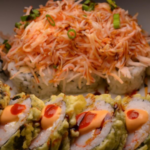 Hatillo.  Also a sushi food truck, the have a delicious fusion between Japanese and Puerto Rican cuisine.  They also offer classic Puerto Rican dishes like mofongo and tostones.  In addition,  did I mention that they also have a bar with some of the best mojitos you will ever taste?
West Coast Sushi Restaurants.
Recognized as having some of the best surfing beaches in the world, the towns Rincon, Aguadilla, Isabela, and Añasco bring in a large amount of international visitors on a yearly basis. Because of this, the gastronomic diversity on the West coast has been impacted like nowhere else on the island.  Asian influenced restaurants are very popular.  You can find Thai food, Chinese, and especially Japanese.  When we did the poll for the best sushi, we received many votes, and most of them were for the west coast restaurants.  From each town we will mention a restaurant that is considered the best according to voters in our poll.
One of the most popular restaurants mentioned in our poll for best sushi
was Run Sushi Run in Aguadilla.  Their customers love the spectacular service, and freshly delicious ingredients in their rolls. They offer from a variety of sushi rolls, Chinese dishes,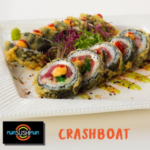 and also Thai items on their menu.  With a hip, and fun atmosphere, your meals are always much more enjoyable!  In addition, they provide delivery to the area.
Aqua Sake Sushi is a small beach front restaurant overlooking the surfing beach of Jobos in Isabela. Their fun atmosphere, and great service has made them the go to spot in Isabela for sushi. They are located in the Ocean Front Hotel on road 4466. It is one of the few restaurants in Puerto Rico, where you can enjoy your sushi on a wooden deck overlooking the ocean with a beautiful view. We asked Aqua Sake Sushi a few questions so that can describe the favorite dishes, and ambience:
What roll do customers love the most?
"The roll that customers love the most if the Paradise roll.  Its is a good sushi roll for beginners, and it also has a Caribbean touch.  The paradise roll has shrimp, coconut, cream cheese, green onions, avocado and plantains.
What roll does Aqua Sake Sushi love the most?
"Our favorite roll is the Picantino.  This roll has baked shrimp, cream cheese, avocado, sriracha and spicy crab"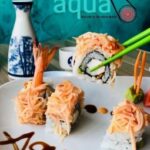 How can you describe the ambience in Aqua Sake Sushi?
"We have a cozy and tropical ambience.  Plenty of seating area indoors, and on our beachfront terrace.  Since we opened in 2017, we have dedicated our resources to always serve the most fresh and high quality sushi that we can.  We offer creative sushi, as well as classic sushi like California roll, and Spicy tuna."
On the west coast of Puerto Rico, the seafood is always fresh because of the mass amount of local fisherman.  In Añasco, the fishing industry has always impacted the gastronomy in this area.  So it is of no surprise that they have one of the best sushi restaurants on the island.  Pick N' Roll Sushi is a small food truck with a picnic table seating area.  They serve classic and creative fusion rolls, sushi pizzas, and  sushi salads.  In addition, they have delicious daily specials made with fresh ingredients.  Pick N' Roll are the pioneers of sushi food trucks.  Starting as a catering company in 2013, they later opened their food truck in 2015.  With their constant creative innovations, and unique sauces, they have created a fan base with sushi lovers in the area.  We asked Pick N' Roll Sushi 3 questions to give us an idea of their restaurant:
What Roll do the customers absolutely love the most?
"Our customers love the Monster Roll.  This roll has crab, smoked salmon, shrimp tempura, cream cheese with seaweed salad and also, spicy crab on top.  It is finished off with a home made orange sauce and tempura flakes."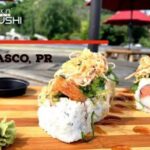 What is Pick N' Roll's favorite roll?
"Our favorite roll is the Three Kings Roll.  This roll has spicy crab, cream cheese, cucumber, chives, fresh tuna tartar and also topped with 3 different sauces.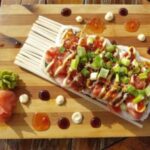 How is the ambience at Pick N' Roll Sushi?
"We have a really relax ambience.  Our usual customers are people getting out of work, students from the university, people Chinchorriando, and people leaving the beach."
San Juan Area
San Juan has the highest amount of sushi restaurant per area in Puerto Rico.  We counted a little over 80 in Google Maps.  The following restaurants are in the towns of Isla Verde, Calle Loiza, Condado, and Guaynabo.   The poll provided many more results, but we are only going over the most mentioned. 
We are going to start with the local favorite.  Umai had the most votes out of any restaurant in the San Juan area.  In addition, after trying Umai, you will know why.  They are located in Suchville Mall, Guaynabo.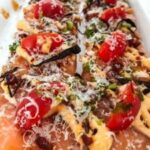 Their creative fusion of Japanese and Puerto Rican cuisine will blow you away.  They use traditional Puerto Rican techniques to cook some rolls like the Loiza roll, which is cooked like an alcapurria de jueyes.  In addition, they have some of the most delicious sushi pizza that we have ever tasted.  All of this in combination with their affordable prices makes Umai a true local favorite and one of our favorites as well.  We wrote a full post on Umai in our blog that has more details with our experience at this restaurant.
Nagoya is one of the most recommended sushi restaurants in San Juan.  Their sushi menu is very intimidating.  You will be caught off guard with the variety of sushi and appetizers on their menu.  Nagoya has locations in  Isla Verde, and in Condado.  They are famous for their spring rolls and the kani salad with avocado.  But word of caution with the kani salad: make sure to share!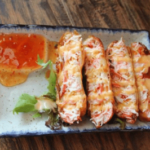 Their rolls and appetizers are made for sharing.  In addition, apart from the sushi and delicious dishes, they are also a Tiki bar.  Yup.  A tiki bar with tasty cocktails that pair perfectly with your sushi dinner.
Frequently overlooked, Kintaro is a small sushi restaurant on the Isla Verde strip.  Tucked between a small shopping center and a pizza restaurant.  They also have a location in the Condado area.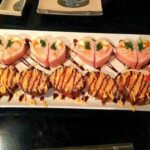 They are a local favorite because they stay open until late, and are perfect for a late night snack.  Kintaro has a delicious creative sushi menu, and also, traditional Chinese dishes with fried rice.  We love their spicy crab salad that is prepared over a bed of seaweed salad and can fill you up like a entree.  I suggest you visit Kintaro if you are out late in Isla Verde and want to grab delicious food before going home.
One of the most popular sushi restaurants in San Juan is Tayzan.  They are located on the Condado strip, and have been a go-to for sushi lovers for years.  They are open until late, and are a perfect late night snack if you are in the Condado area.  Tayzan has plenty of seating indoor and outdoor, but note that on some nights you will have to wait to be seated.  If you love sushi as we do, you will love their sushi menu.  We never mind returning to Tayzan for good sushi.
When we want to get dressed up, go on a date night for sushi, we usually go to Ikebana.  We like Ikebana so much that we make it a special occasion each time.  They are a little more expensive than the other restaurants, but you pay for the quality and quantity.  And the quality is evident.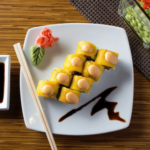 We always start with the house ceviche.  Also, they change the protein frequently, so you never eat the same ceviche on different visits.  We love ceviche, and Ikebana's ceviche is on another planet. It is a mixture of sweet and citric juices, which give it a unique taste.  The sushi is always fresh, and the special roll pieces are massive in size.  If you like craft beer, you are going to love their inventory.  They have frequent drink specials.  So make sure to visit their social platforms, and also their web site.
And that's all for San Juan, Almost..
Finally, we feel that the people that voted on our poll did a great job in mentioning truly delicious restaurants. However, we feel that two more restaurants in the metro area deserve a mention.  Both restaurants are located in Calle Loiza, Santurce.
Possibly the best all-around Asian restaurant in Puerto Rico.  Yes, they do have delicious and creative sushi, but their constant evolving and diverse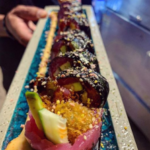 menu turns the traditional Asian restaurant model upside down.  Chef Jonathan Cruz is not your typical sushi chef.  He travels the world, and experiments with different ingredients, and techniques that no other chef uses.  He takes all of his Asian style influences, and then he fuses them with traditional Puerto Rican cuisine.  It is hard to find a plate on their menu that we do not like.  We highly suggest that you visit Shibō in Calle Loiza.  Additionally, if you like to try something new for your Sunday Fundays, you have to try their Asian influenced brunch.
Having only opened in early 2020 in Calle Loiza, YŌKO has become a local favorite in a short amount of time.  Chef José Miguel Meléndez has brought his experiences from learning under top sushi chefs in Miami, to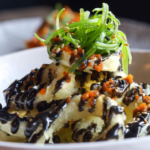 Puerto Rico and has created a Japanese-Puerto Rican fusion that has innovated Asian cuisine in San Juan.  With his first project, Dos Pallillos in Tresbe, Chef Mendez truly showcased his abilities by creating a sushi menu that was delicious and also, addicting.  At YŌKO, you will get the same detail to flavor and creativity with each plate.  He takes pride in creating daily specials with fresh caught fish from local fishermen.  We highly recommend that you visit YŌKO's social pages for contact info and also opening hours.

Most Voted Sushi Restaurants with Various Locations
For this last section, we are going to mention restaurants that have more than one location.  They have found a way to copy paste their formula to success throughout Puerto Rico. 
Sushi Kytto Has locations in Juncos, Gurabo, Dorado, and Cayey.  It is of no surprise that with this reach they are one of the favorites in our sushi poll. 
They have delicious creative sushi rolls and reasonable prices and also offer teppanyaki.  We suggest that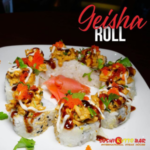 you order the Geisha roll and also, the monster roll.  If you are ever in any of these towns and hungry for sushi, make sure to visit Sushi Kytto for a delicious meal.  You can also follow their Facebook and Instagram for daily specials and happy hours.
We mentioned in our post a couple of places that are serving delicious sushi from food trucks.  Crazy Sushi is both.  They began as a food truck, and now have food trucks and restaurants.  They have locations in Carolina, Caguas, Bayamon, and Humacao.  They are our go to if we want to casual,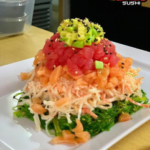 pickup and go sushi for lunch.  They have a small menu, but everything on the menu is delicious and perfected.  Crazy Sushi has a 16 creative roll menu, and delicious appetizers.  We especially love their Crazy Butterflies, and Crazy salad.  The Crazy salad is a mountain of crab salad, seaweed salad, smoked salmon, fresh tuna, avocado, and topped with spicy mayo and masago.  In addition, they provide delivery to neighboring towns.  Also, take a look at the plates on their Instagram, and Facebook pages. You will not be disappointed with crazy Sushi's massive rolls, and delicious appetizers.
Wrapping up!
The reason that we did this poll is because we love sushi. So much that we want to find new places to explore. And, we did. Since conducting this poll, we tried three new sushi places! We are amazed of how close they are to where we live, and it was our first time hearing of them. We hope that with this article, you will also find new places to enjoy sushi.
Most people think that a sushi restaurant is a sushi restaurant, but we hope that with this article we have been able to explain why it is possible to love more than one. Who would have thought that on a small 100 x 35 mile wide island, there Japanese cuisine would have made such an impact? Sushi restaurants are on every corner of the island, and with our poll, we realized that Puerto Rico is full of sushi lovers.
We hope that you enjoyed our review created by our poll in Instagram. Feel free to comment below what you like, or don't like. On the other hand, if you think we should mention other restaurants, lets us know as well. Follow us on Instagram for daily specials from all of these restaurants and more. There are many more sushi restaurants in Puerto Rico, but these are the crowd winners. Our poll resulted in 179 different locations from Puerto Rico. You can also visit Instagram and Facebook for more information on these restaurants. Our guide can also provide more contact info.
[jetpack_subscription_form subscribe_placeholder="Email Address" show_subscribers_total="false" button_on_newline="true" submit_button_text="Subscribe" custom_font_size="16″ custom_border_radius="0″ custom_border_weight="1″ custom_padding="15″ custom_spacing="10″ submit_button_classes="has-text-color has-background-color has-background has-primary-background-color" email_field_classes="" show_only_email_and_button="true"]
Do you own a restaurant and need help in advertising your business? Check out the blog posts from our sister site: www.islanddwellersweb.com for help with your online advertising:
The importance of optimizing Google my business for restaurants (2020)
G.R.O.W. Digital Marketing Framework Overview for Restaurants (2020)
Top Grammarly premium features that Convinced me to upgrade from the free plan in 2020
How to create a Mailchimp email marketing strategy for your restaurant (2020)
How IFTTT can boost your restaurants productivity with automation in 2020
2 Critical Reasons to Use Facebook Creator Studio for Restaurant in 2020
Facebook Creator Studio vs. Hootsuite Which one is best for you in 2020
6 Reasons why your restaurant needs a website with Digital Marketing 2020